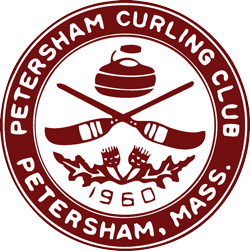 ​We are a 2-sheet curling club located on Route 32 in Petersham, Massachusetts. We have opportunities for everyone to get on the ice, from brand new curlers to experienced, competitive ones. Drop in on any night while we curl and we'll be glad to offer you a drink and explain how curling is played.
Have you heard?
Petersham Curling has a new online store!
​
May the Force Be With You! Live Long And Prosper! Exterminate!!! Whatever your Sci-Fi motto is, come and join us for our annual Spring Fling bonspiel! This year's theme is Science Fiction, so strap on your laser crossbow, fire up the TARDIS, and set your phasers to stun to be ready to begin your epic quest for interstellar glory!
​
Are you ready to boldly go where no curler has gone before?*
​
​
Looking for a fun activity to do with your friends?
How about a great Team Building activity for your Corporate event?
​
You can rent ice time at Petersham Curling Club for private groups and corporate events.

Rentals are only available during the curling season, from October through March. Bookings start filling up in September for the upcoming season.

Instructors are provided to explain and teach how the game is played. A short overview of the game, rules, and strategy is given. We'll then take you on the ice and teach your group how to deliver the stones and how to sweep.

Following the basic instructions, you'll break into teams and play several games. Our instructors will stay on the ice with you to help with the strategy, rules, and to provide pointers for improving your game.

Back in the Club House you can enjoy our full bar as you socialize with your Teams. You're welcome to bring your own food and snacks. Our full kitchen is available for your use if needed. Or, we've had several groups arrange for catered meals following their Curling Event.

Curling is a fun outing to do with a group of friends and it makes a great Team Building activity for corporate events.

Our standard rental package is 4 hours which includes 2 hours of ice time and 2 hours of club house time for socializing or meetings. Rental times can be increased in one hour increments. Groups of 8 to 32 can be accommodated on the ice. Our club house can handle larger groups if there are friends or associates who only want to watch and not participate in the fun.

Please contact Our Rental Manager, at rentals@petershamcurling.org for more information or to make a reservation.

Here's also a fun Youtube video that captures the exciting time a group enjoyed when they rented our curling club!
Location:
250 Main Street (Route 32)
Petersham, Massachusetts
01366

Mailing address:
P.O. Box 5, Athol,
Massachusetts 01331

Club Phone Number:
(978) 724-3210

Email:
petershamcurling@gmail.com
​
Facebook: