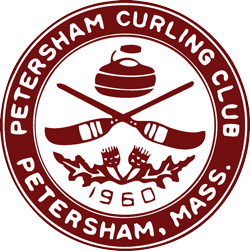 The Petersham Curling Club was founded in 1960 and today is one of only 4 dedicated curling clubs in operation in Massachusetts. The founders of the Club were, for the most part, employees of the Union Twist Drill Company (UTD) in Athol, MA. The President of the UTD, Stanley L. Holland, was brought in to run the Athol UTD operations from a Butterfield plant in Rock Island, Quebec. As a curler, Stan was determined to start a club near the UTD plant in Athol.

In the late 1950s, a plan was made to purchase land from the Petersham Country Club on which to build the Curling Club. Vincent J. "Bill" Purple (at the time, an employee of the UTD and the President of the Country Club) was one of the key people in the formation of the Curling Club under Stan. Property was carved out of the Country Club's land and was sold to the Curling Club on July 1, 1960 and the building of the Club was underway!

The official groundbreaking of the Club was held on July 24, 1960. The cost to build the 2-sheet club was $50,000 and it was modeled after the Border Curling Club in Stanstead, Quebec, Stan's home club. To this day, the Petersham Curling Club and the Border Curling Club still call themselves "sister clubs" and members curl at bonspiels (tournaments) held at each others' clubs once a year.